The Politics of Immigration, Labor and Food – Paul Apostolidis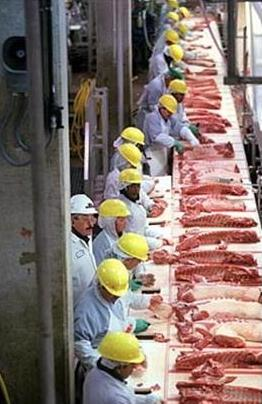 Mexican immigrants have endured both physical and emotional trauma to cross the border into the United States, only to find themselves working in some of America's most dangerous industries, like meatpacking.
Paul Apostolidis discussed American immigration reform through the stories of immigrant meatpackers. He explained how
these immigrants protected themselves during hazardous factory work, how they democratized their union, and how, in partnership with local consumers concerned about food safety, they made the slaughterhouse safer for workers and consumers alike.
Apostolidis argued that immigration reform should not only give immigrants new rights to reside here, but should also recognize the unique abilities of immigrants to strengthen American democracy and develop creative solutions to social problems that intertwine the fates of all.
Paul Apostolidis holds the Judge & Mrs. Timothy A. Paul Chair of Political Science at Whitman College in Walla Walla, Washington. He is the author ofBreaks in the Chain: What Immigrant Workers Can Teach Americans about Democracy.
Visit the Portland CityClub website to listen to a podcast of Professor Apostolidis' talk.